The photograph below only shows some of the damage that I needed to repair.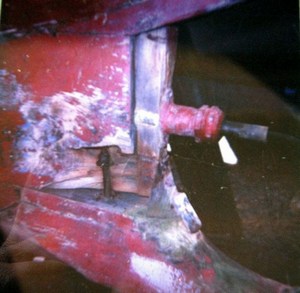 So why did I take her on?
First, I must admit that there was a certain amount of gut instinct involved, there was just something about the shape of her hull that appealed to me.
However, Mignonne also had the potential to fulfill my requirements and she was cheap.
I wanted a sailing cruiser, one which would be easily handled by an aging single hander.
As I was looking to my future plans to go off cruising on a long-term basis when I reach retiring age.
So a long keel, not too big, comfortable both for living as well as for being reasonably stiff and good load carrying ability.
Speed was not a priority however, looks were.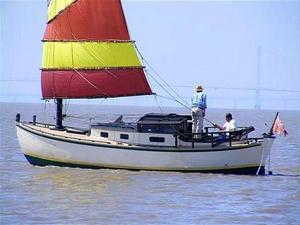 The beauty of buying a restoration project was that it allowed me to fit out to my own requirements.
Most boats are fitted out to accommodate a couple with two point five children.
I had no need of more than one bunk.
It's not that I'm a misogynist just that the chances of a young nubile subservient bimbo wishing to sail with a silly old fart like me are so remote that I have discounted the possibility.
The other thing I wanted was a covered position from where I could keep watch in the warm and dry especially at night and when it is cold and damp.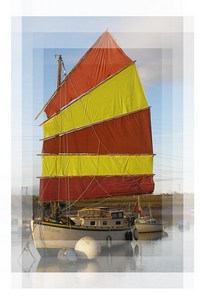 It would also be somewhere protected where I could sit at any time yet be able to see what was happening around when moored up or at anchor.
I had no illusions about the amount of work that the restoration would involve.
I did have some reservations about my ability to do the job, as I'm neither a shipwright nor a carpenter.
As can be seen from the photos she had been badly neglected and had suffered some structural damage.

Another aspect of taking on a rebuild was the notion I had of being self-sufficient in that I would develop the skills and the knowledge to be able to repair and maintain the boat without having to hire so called expert assistance.
It wasn't until I had started the rebuild that I decided to convert her to junk rig.
Fortunately, I was still working on the hull repairs and hadn't touched the decks, so I was able to plan the moving of the partners into the renovation.